Article Last Updated: 3/13/2023

Software Release Year: 2020

"GSPro is the leader in next generation golf simulation software. Amazing 4k graphics, ultra realistic ball physics, and a massive community who constantly contributes."
SurfThing Testing Methodology

Modern simulator software is almost completely dependent on the graphics card installed in the computer. Because of this, we do not concern our software testing with reviewing a wide range of processors as the simulator performance is not affected by a change in the processor model, as long as you are using one from the latest generation. (Processor power comes into play, in large part, when a golfer wants to incorporate other programs like swing capture software utilizing high speed cameras).
Our testing, therefore, will focus solely on the graphics card performance (Nvidia cards only, as many of the software publishers only certify for Nvidia cards). The rest of the system specifications for testing will always use an i9 processor from the latest generation at the time of software release, with at least 16GB of RAM and a solid state NVMe drive.
Our testing results are given in FPS (frames per second). The target goal for an immersive golfing experience is as close to 60 FPS as you can get (note, all golf software companies have capped the FPS to 60). Anything above 30 FPS is considered playable with occasional visual performance dips and graphical tearing, depending on how close to the 30 FPS mark you are at. Anything below 30 FPS begins to be noticeable, unenjoyable, and depending on how low, downright unplayable -- in some cases making the ball flight take twice as long as it normally would.

We test the software on each system in both standard HD (1080P) and Ultra HD (4K) resolutions, so you can select the proper computer for the display type you plan to use. The software is otherwise left in its default settings for the testing. Some software packages have the ability to reduce the visual fidelity in order to increase performance of the software. If a particular software has this capability, we will highlight this fact after the testing results.
We test each graphics card on a wide variety of courses and holes for each resolution. Because each course can have a variety of different foliage and 3D models, each course can bring with it different performance values. The average frames per second taken for each card is the spectrum average of all courses and holes sampled across that resolution.

GSPro Performance Results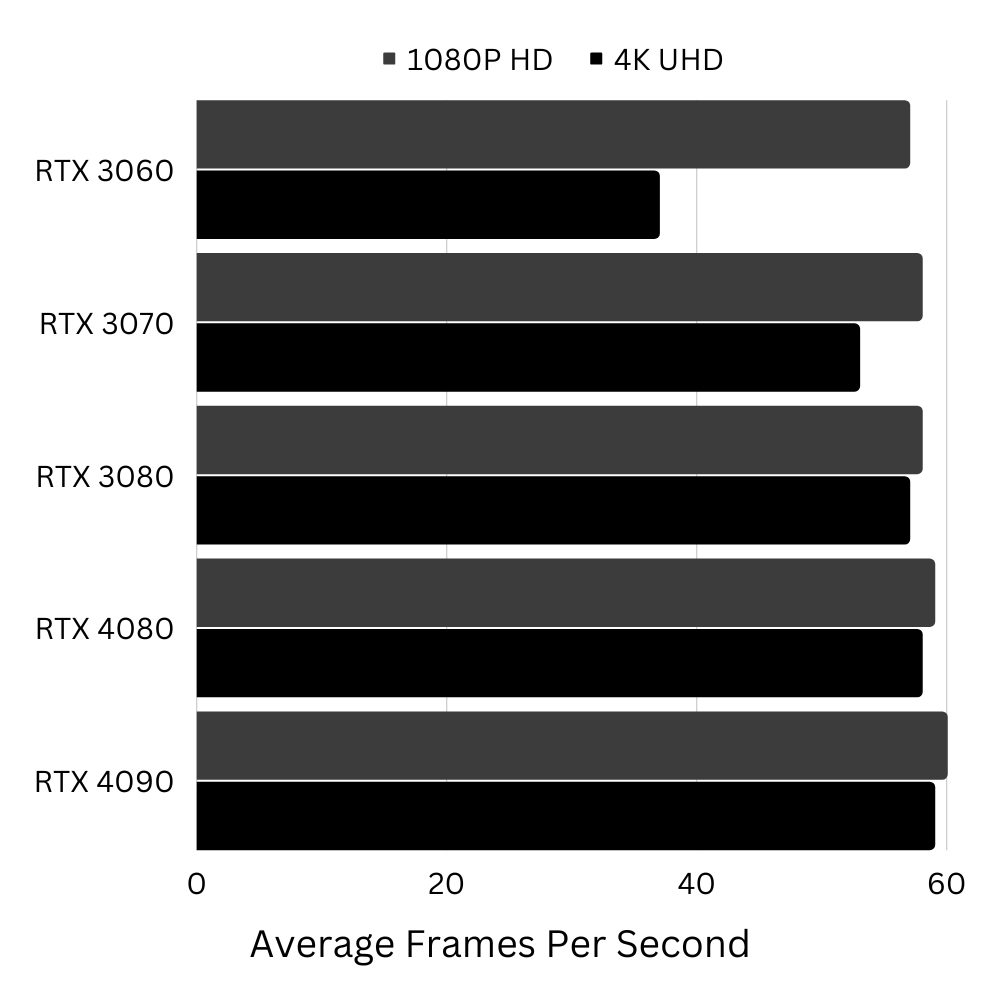 Test Conclusions and Recommendations

1080P HD:

You do not need to break the bank to play GSPro. Nvidia's current mainstream graphics card, the RTX 3060, gets you an immersive experience playing GSPro. If you look at the graphs, you will notice the flagship card, the RTX 4090, is the only graphics card to manage a perfectly smooth 60 FPS. We found this to be surprising, given the generally good performance throughout all of the video card lineup. We attribute this to an odd amount of performance dips and hiccups that happen during gameplay. Other than maybe here and there, we can't say we really noticed it much with the naked eye, but our testing software clearly noticed it in the average framerate testing.

Another factor contributing to the software not hitting a consistent 60 FPS on most of the video cards seemed to be with the part that is a big benefit to the software, the plethora of community driven courses. With such a wide variety of courses available to play, often created by the community, there is a lower amount of quality assurance and testing prior to playing a course. We cannot conclusively say what the exact cause is, but it is an element that is there with the software. This does not at all imply that someone needs to jump to the RTX 4090 flagship to get an enjoyable experience, it is just something to be aware of. You can expect to get a usable experience with older used graphics card hardware, just expect more noticeable performance dips.

4K UHD:

The RTX 3060 is also a decent starting card to play GSPro in 4K. If you have a 1080p display already, and would be considering switching to 4K in the future, you would be able to buy a system with an RTX 3060 is have an enjoyable experience. With it being at 37 FPS, you may notice more performance dips and stuttering in the golf ball flight path, but subjectively, these minor hiccups is unlikely to provide an unenjoyable experience.

If you are looking for a more consistent gameplay experience, you will want to jump to at least an RTX 3070. This gets you much closer to the desired 60 FPS with an average of 53 FPS. As stated before, GSPro, for whatever reason, has a fair amount of performance dips, contributing to the 53 FPS. However, jumping up to something higher than the RTX 3060 card's 37 FPS will make these performance dips far less noticeable.
Anything beyond is going to guarantee as smooth of a performance as possible and future proof your system for any future releases of GSPro or other software you might want to run alongside GSPro.

SurfThing Desktop Selection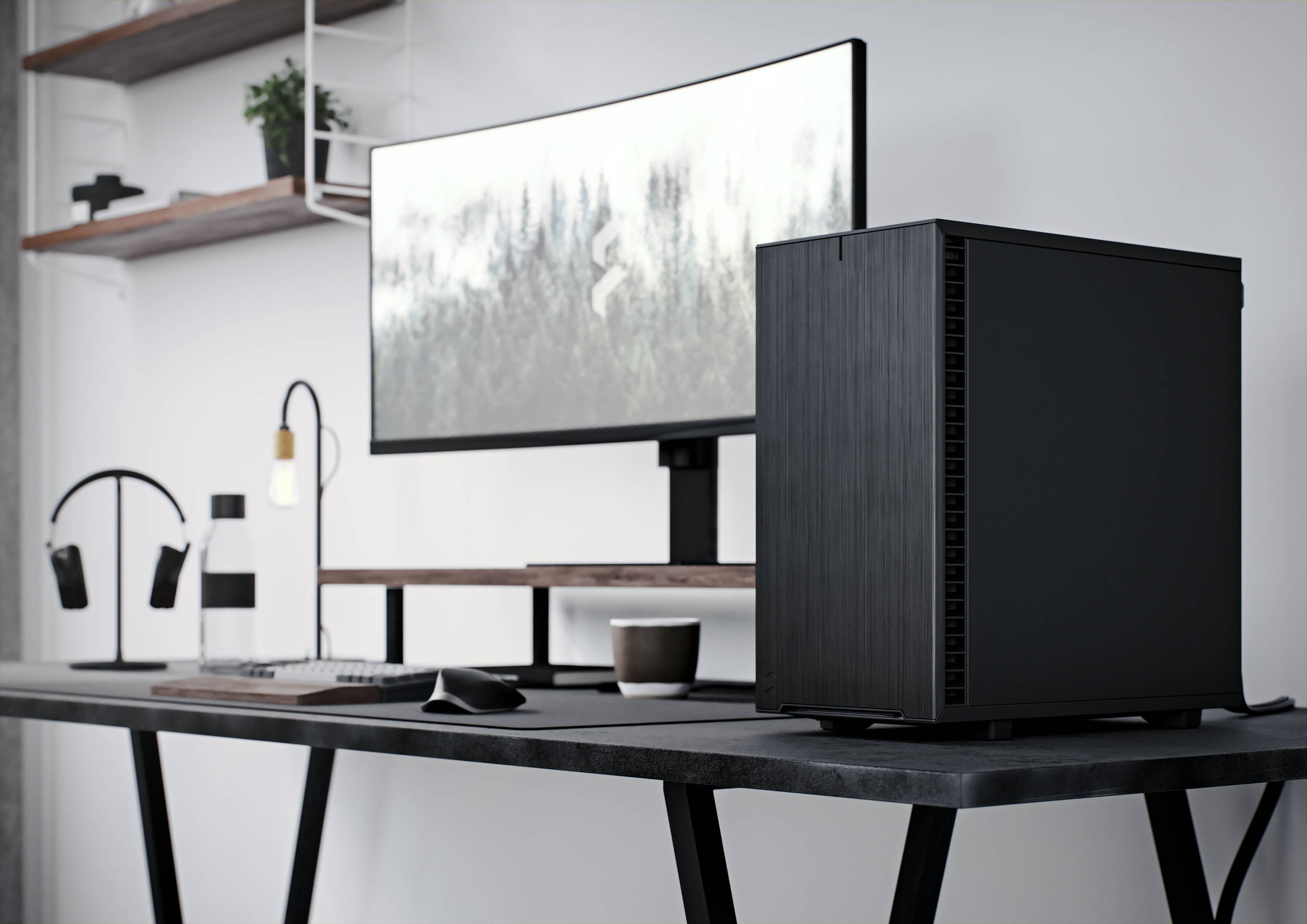 Step 1: Identify the performance level you need.

Step 2: Pick the best video card for your performance level.

Step 3: Select a SurfThing PC that matches, and we'll install the software for you!